Let's face it:
Figuring out how to create a video membership site can be really confusing!
There are tons of different tools, plugins, and methods out there to get your membership site up and running.
But without an extensive background in website building, it can be hard to figure out exactly which tools and methods are right for you.
Well, we've got this tried-and-tested guide to make building your membership site a clear and simple step-by-step process that you can follow yourself.
It's worked for 11,000+ of our clients owners so far, and we're sure it'll work for you!
In this guide, we'll go over:
What a membership site is

Why launching a membership site is a great idea

How to find out if you're ready to create one

A step-by-step guide on how to create a video membership site
Feel free to skip right to the section you want, or just read on:
Ready? Let's get started…
No time to read this article now?
Download a free PDF version of this blog post (all tips and links included).
What is a Membership Site?
A membership site is a website with content that's protected behind a paywall. Members pay for access to the content on a recurring basis, also known as a subscription payment model. 
Membership sites come in many different shapes and sizes. But the most profitable type of membership site is a video streaming subscription site.
Technically speaking, a video membership site is what's also called a Subscription Video On Demand Service. 
Video On Demand (VOD) is any online video that is playable at any time with a click of a button. The Subscription part of it just means you charge them a recurring fee for that access.
Think Netflix or Hulu, but for your content!
Should You Create A Subscription Video Membership Site?
Yes. 
If you're considering creating a video membership site for your business – good thinking! You're definitely on the right track to success.
Here's why:
The subscription business model has plenty of benefits.
The biggest being that it allows you to earn passively recurring revenue from the Membership Economy.
The Membership Economy is a new trend; where consumers are picking smaller, cheaper subscription fees for access to content over bigger one-time payments for ownership.
Think of it this way:
People would rather pay $15 a month for Netflix than pay $40 for the DVD box set of their favorite TV show.
But this goes beyond entertainment. We can see the impact of the Membership Economy in lots of different niches.
Here at NulledMedia, we've seen it used by…
choreographers

deep-sea divers

martial arts instructors

tattoo artists

yoga instructors

YouTubers
…all of which have built profitable membership sites around their favorite topics.
According to the Membership Economy, subscription purchases are preferred by users because they get: 
A lower barrier to entry (membership feels accessible).

A sense of community

.

The freedom to watch when they want (not on any strict schedules)

.

The ability to watch on any device for no extra fees

.
When you create a membership site you get all of the advantages of the Membership Economy, like: 
Establishing a recurring revenue stream

.

Earning a predictable income and cash flow

.

Keeping your users subscribed for longer

.

Generating ongoing data to constantly learn about users.
Membership is all about the idea of the "forever transaction." 
Would you rather have a subscriber pay $5 for one video once or $10 every month for unlimited access to your entire library? 
How to Know When You're Ready to Launch A Video Membership Site
There are four things you need to have before you launch a membership site.
The good news is that you probably have all or some of them already! 
Take a look at the following signs you're ready to launch your own membership site. How many have you already achieved?
1. You Already Have Content

These may be videos that you have planned, recorded, and edited, either on your own or as part of a content creation team, giving you a foundation of necessary skills to run a video membership site.
2. You Already Have An Existing Audience

When people already know, like, and trust your content, you already have an attentively listening audience you can market your membership site to.
3. Your Audience is Already Engaging with your Content

You have people watching your videos and liking, sharing, commenting and having engaging discussions with one another. This is also known as a community. 
4. You're Ready to Market your Videos:

You have what it takes to market and promote your video membership site to the world.
How To Create a Video Membership Site
Now that you're well-versed in the basics of memberships, let's get down to it: How do you actually build your own membership site?
We've outlined the step-by-step process for you right here. You'll learn how to:
Pick the ideal site-building platform. 

Plan your video content.

Build a fully customized site.

Choose a pricing structure. 

Launch and build your online community.

Create native branded apps.
Step 1: Pick the Right Site-Building Method for You 
Let's start with the technical side of things. 
When it comes to building your own video membership site, you have three options: 
1. Build your own DIY membership website using WordPress 
If you've got the time and technical skills, you can try your hand at building your own DIY platform from scratch. 
This is a solid option if you don't mind putting in the time and financial investment.
By our estimates, building a mid-range site will cost you  $2,700 upfront plus a minimum $802.40 per month in running costs. 
You'll also need to educate yourself on how to run things.
You're responsible for everything that happens on your site, which means you'll have to work with a bunch of different tools and dashboards. Plus, you'll have to update the system yourself and if anything goes awry.
You're effectively a one (wo)man technical team! 
If you think you've got the skills for this method, we've broken down the steps in our guide on how to build your own DIY membership site. 
2. Hire a developer to build a membership website for you
If you've got the cash to spend, enlist the help of a professional developer. This is a good choice if you're in the market for something custom built!
Because they'll be building this product from scratch, it can get somewhat pricey, so prepare a hefty budget for this method.
For instance, you could be looking at up to $150 an hour plus retainer fees for the right developer.
You can find developers on websites like:
Be sure to hire a developer that has specific experience building video streaming websites and subscription paywalls.  
3. Use a video membership platform 
If the first two options sound overwhelming and too expensive for you, we recommend using a video membership platform to help you build your membership site. 
A video membership platform is an all-in-one solution that you can use to build a membership site without writing a single word of code. It will allow you to:
Host your videos

.

Customize your site.

Monetize your content.

Manage subscriptions.

Engage with your members.
Better still, they come with 24/7 support from an experienced technical team!
The reason why we know so much about video membership platforms is because NulledMedia is one. NulledMedia allows you to create your own video membership site where you can monetize your content and engage a community online!
We have tools that let you build websites, catalog your content and create a unique storefront to represent your brand. It's your website, your way.
NulledMedia ensures you have total ownership of your audience. And, we empower you to reach more people, nurture customer relationships and track subscriber growth and churn!
In the rest of this article, we're going to show you how you can use NulledMedia to build your profitable membership site.
Step 2: Plan Your Video Content 
Now that you know how you're going to build your video membership website, it's time to plan your content.
You need to think about what kind of content you want on your site. Will you:
Create unique content?

Repurpose your old content?

A mixture of both?
There really is no right or wrong answer to this. 
You will need to have premium content for your paying subscribers. But, there's also a great opportunity to grow your content catalog by recycling content you've used on IGTV and YouTube.
You should also consider how you'll supplement your videos. What extra materials will you offer to provide even more value to your members? 
This will depend on your niche, but it could be:
PDFs

eBooks

Podcasts

Calendars

Slideshows

Course notes

Training plans

Tests and quizzes
If you're unsure how much content is too much content, we have an industry-guide on how big your content catalog should be: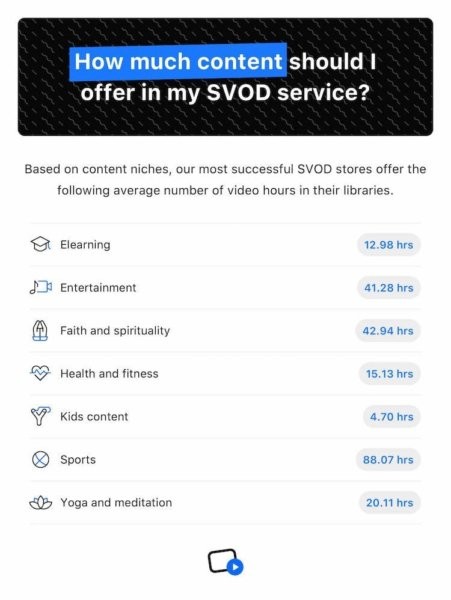 Don't worry if you have much less content than that right now! Treat it as a goal to work towards (and maintain) over the coming months.
When you're ready, upload your videos and organize  your content into a cohesive catalog:
You can organize in a bunch of different ways. It's best if you start by topic, video length or usage. For example, 
 A fitness membership site might organize content experience level by:
Experience level: beginner, intermediate, advanced, etc.
Equipment needed: dumbbells, yoga mat, resistance bands.
If you offer multiple membership tiers like free, basic and premium, you can also organize by access level.
Watch here to see how having a well organized catalog can have a huge impact on your audience:
Step 3: Build A Fully Customized Site 
NulledMedia offers a high level of customization to make your membership site look, feel and act uniquely yours.
NulledMedia's plug-and-play web builder is pretty intuitive. Here's how it works…
You'll start with one of NulledMedia's many templates.
These provide the building blocks for your video membership site, allowing you to easily
customize and apply your own: 
Branding 

Logo

Color schemes

Header images

Copywriting

Video thumbnails

Buttons
Need some inspiration? We've seen our clients creatively use membership sites in a number of ways. Check out these successful examples of video membership sites.
If you'd like more information on this, we have free tutorials to help you with branding your video membership website. 
Step 4: Pick A Pricing Structure 
With your video membership site you want to ensure:
You charge what you're worth

You give your members the most back for their buck
Lots of creators struggle figuring out how to hit the "sweet spot" here at first. So, let's go through the process together.
1. Pick Your Recurring Fee Structure 
First, think about how you'll structure your recurring charges. How often will your members need to pay their fees? There are three common structures:
Monthly: the most common because it offers the lowest barrier to entry. Your monthly prices will be a low fee (like $14.99), which feels more affordable.
Annually: this provides viewers with the most value. When spread over the entire year, it offers a lower monthly cost. A good investment for those who plan to utilize their membership to the fullest! 
Quarterly: less common, but still effective. This offers a middle-ground option, and can work well for industries that work on quarterly earning and spending.  It's ideal for certain sectors that work with quarterly earning and spending.
You can also offer more than one of these. It's common for video membership sites to offer a monthly and annual option.
2. Select Your Membership Tiers
Next up, let's explore tiers. 
These are all about who gets access to what content. If your library of content is the pie, how many ways do you want to slice it up? 
Premium Only: all of your content is behind a gateway
Free and Premium: some content is accessible to all and some content is behind a gateway
Free, Basic, and Premium: some content is accessible to all, some content is behind a gateway and certain special content is behind a second gateway
You can also offer a free trial. Research shows you can convert up to 52% more customers by offering a short free trial to use your site.
This empowers your potential subscribers to overcome their own sales objections. They can get a hands-on look at your membership site, and decide if it's right for them.
3. Set Your Membership Price
On average, our analysis shows NulledMedia customers charge a monthly subscription price between $7.99 and $9.99. But our most successful customers charge anywhere from $2 to $50 per month — that's a big window!
Of course, every business is different. Here are the three factors to consider when pricing your membership:
Monthly Revenue Goal: How much do you want to make per month?
Existing Followers: How big is your current audience? This includes social media, email list and more.
Conversion Rate: The percentage of people who visit your website and buy what you're selling. On average, this ranges between 2% and 5%.
Want to skip the math? Check out our Monthly Subscription Calculator. 
Step 5: Launch Your Membership Site and Connect With Your Video Community
Finally, it's time to launch your website! 
You've officially created a video membership site and sent it out into the world. Well done!
Now comes the fun part: Connecting with your audience to promote your site. 
You should use your existing channels to tell all of your followers about it. Line up posts for your most used feeds, letting them know what you have to offer! 
Your existing audience are the ideal candidates to be your first customers. So, be sure to let them know you've built this site with them in mind! 
Share shoutouts, teasers and previews of your video content to create interest. Then, lead followers back to your membership site.
Most importantly, grow an online community around your video content. Enable this through comments, forums, and community features. 
Then follow these four key components to building your community:
Find Your Why: What is the belief, idea, goal or interest which brings all of you together?
What You're Not: When you're growing an online community, it is as important to define what you're not, as it is to define who you are.
The Ability To Actively Contribute: encourage members to actively interact with each other.
Positive Reinforcement:  Be sure to respond to people, and keep the conversation going! 
Bonus Step: Create Native Branded Apps
Apps are now an absolutely essential part of running an online membership  business. 
OTT video streaming apps allow your customers to easily access your content on different devices. This way, you can distribute beyond the web to platforms like Android, iOS, Roku, Chromecast, and more. 
Best of all, NulledMedia helps you brand these membership apps so you can add your logo, branding, and distinctive design. Customers just click the app, log in, and they can access all of their video content.
The OTT Digital Gold Rush:
Why Now Is The Best Time
To Launch OTT Apps

Final Thoughts
The benefits of creating your own membership sites are clear: recurring, consistent revenue streams, stronger customer loyalty and longer relationships. 
Enlisting the help of a video membership platform can make the journey of building a membership site a simple, straightforward process. Here's a quick recap of the steps:
Pick a Payment Structure

Pick Your Platform

Plan Your Content

Customize Your video Membership Site

Launch and Connect With Your Video Membership Community
In this new membership economy, access is everything.
How will you create your video membership site?
We recommend you use NulledMedia ?
Try before you buy
Try NulledMedia for free for 14 days