It feels like everybody is live-streaming fitness classes right now.
Personal trainers, brick-and-mortar studios, and class instructors are going online to help their clients hit their goals. 
But how did they do it?
Well, if you want to learn how to live stream your fitness classes, you've come to the right place!
At NulledMedia, we've helped hundreds of fitness business owners get online to grow their audience, earn more money, and increase the value they offer to clients.
And now, we want to help you do the same! In this article I'm going to show you:
How to set up up a live streaming fitness platform
The key benefits of using live streaming in 2021
How a Chicago-based gym grew its business with online classes
Let's go… 
No time to read this article now?
Download a free PDF version of this blog post (all tips and links included).
How To Live Stream Fitness Classes
In this section, I'm going to walk you through the 9 steps you need to take to start live streaming your fitness classes online.
Let's go…
1.  Decide On The Fitness Classes You'll Live Stream

The first step is to identify what type of fitness classes you want to live stream. This will influence your approach and the equipment you need.
There is no right or wrong answer here. We've seen successful online fitness businesses built around lots of different types of training, including:
Cardio.
Aerobics.
Barre.
HIIT.
Pilates.
Strength training.
If you're a brick-and-mortar fitness studio you might want to live stream all of the above like iChuzeFitness does here: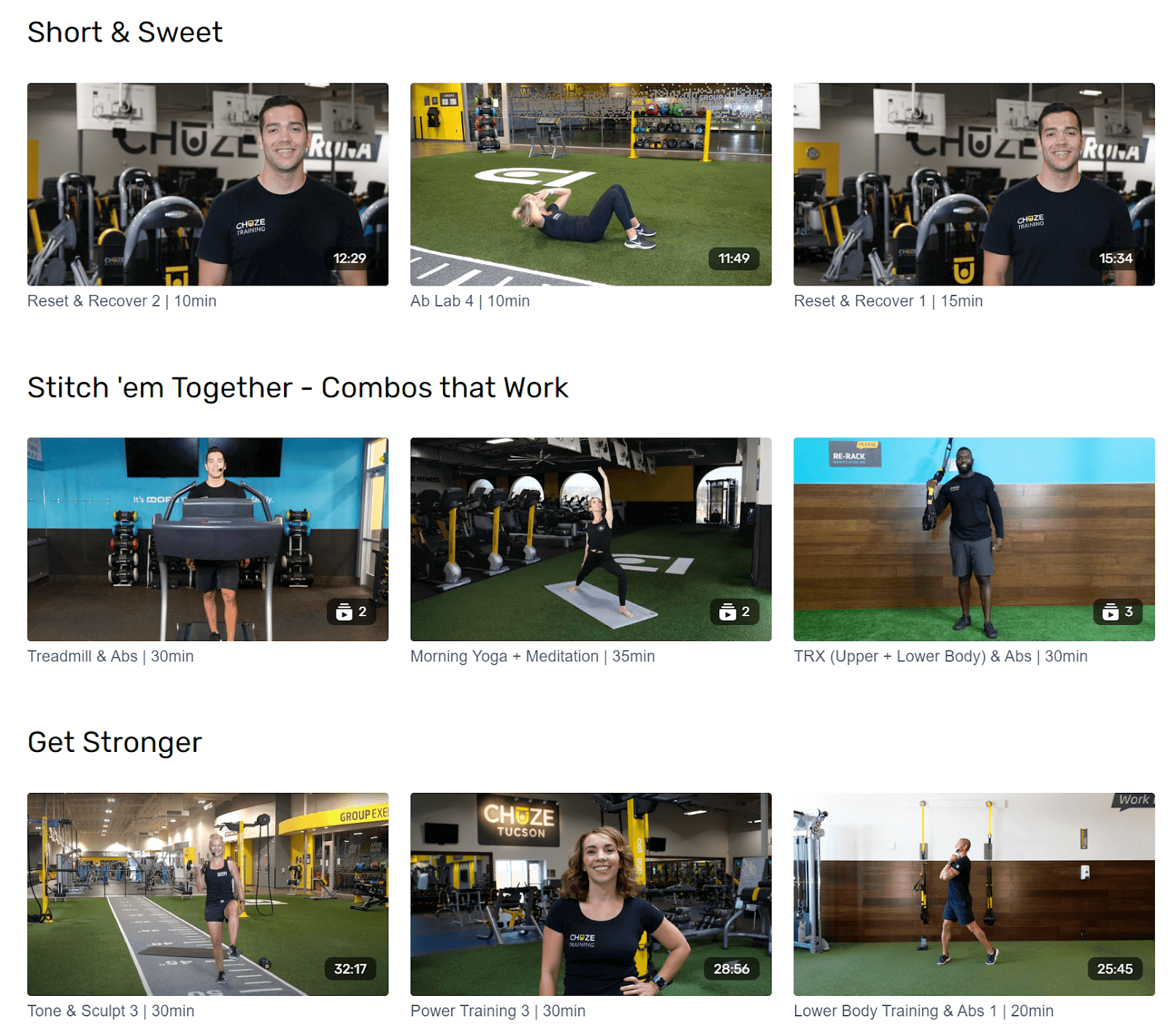 Or,  if you're a specialized personal trainer or facility, you might want to focus on different variations of the same type of training, like Love Cycling Studio does: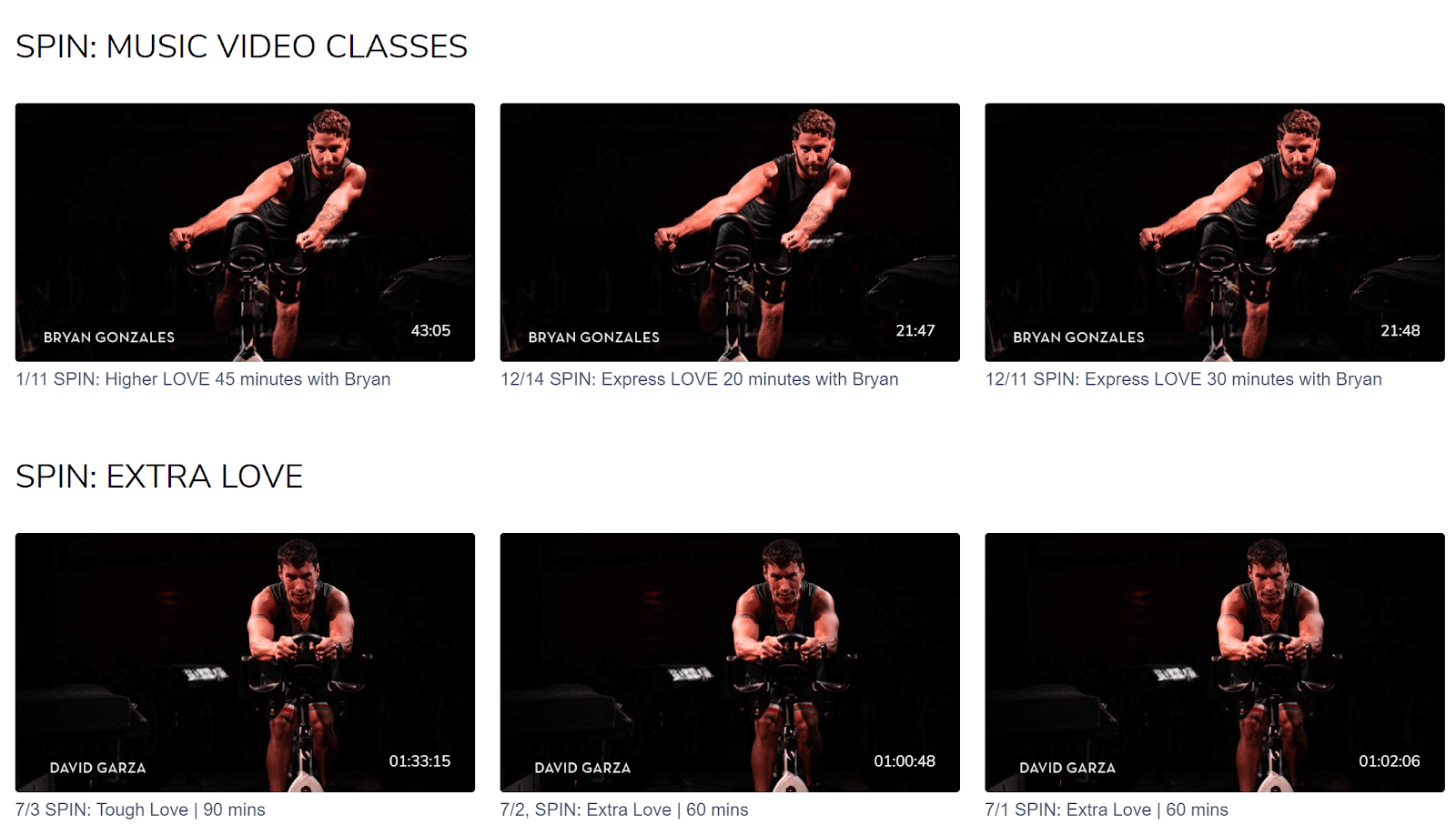 If you're unsure of where to start, we recommend choosing one style of class – the one you feel most comfortable broadcasting – and expand your timetable from there.
2. Choose An On-Demand Live Streaming Platform

The next step is to find a platform to host your live streams.
You may have already considered using Zoom, Facebook Live, or Instagram Live to broadcast your workout videos. But, there is a better option! 
We recommend you choose a video monetization platform like NulledMedia.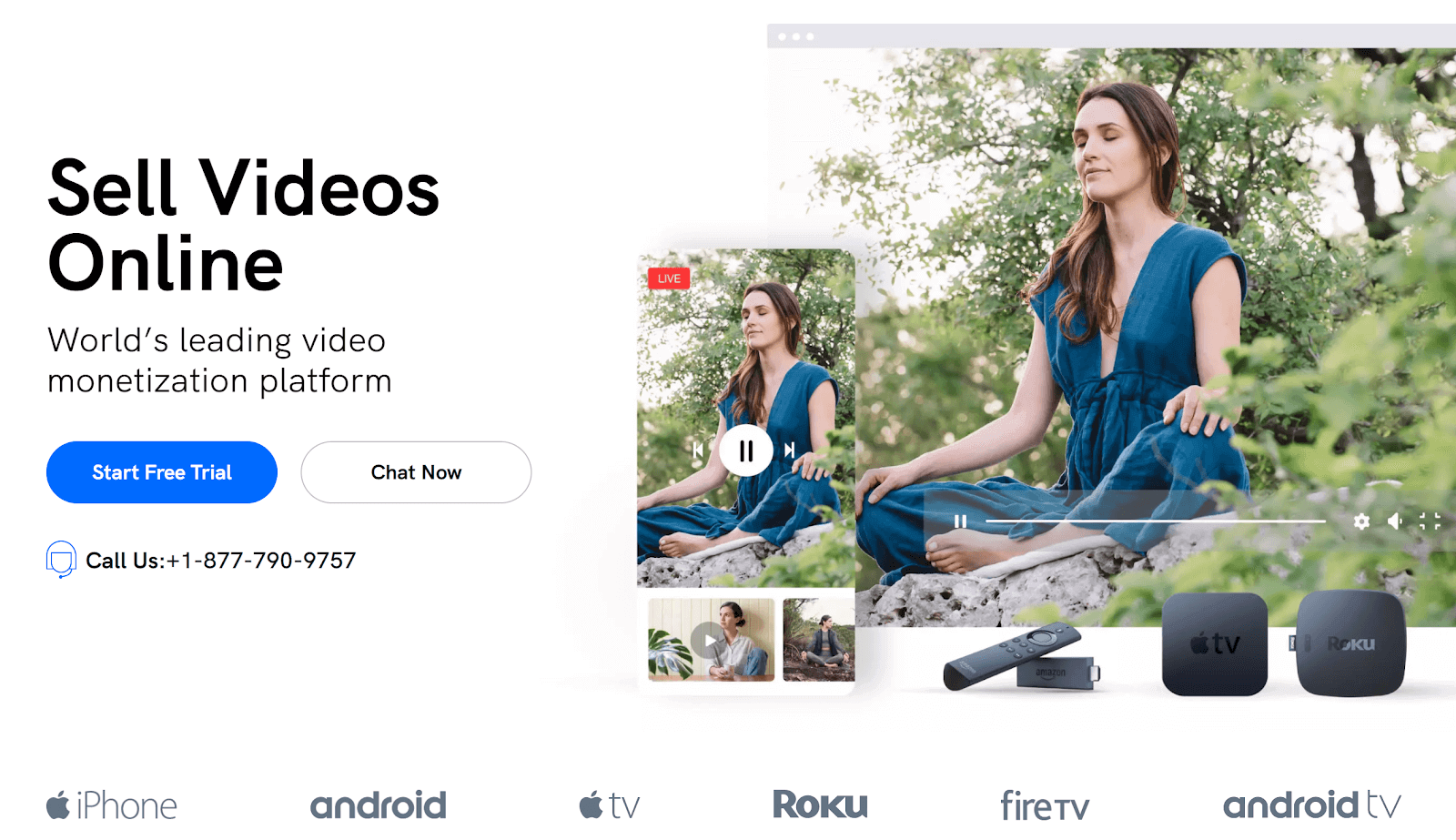 If you want to build a successful online fitness business, you need an all-in-one platform that will help you reach a larger audience and turn them into customers.
With NulledMedia, you can:
Start and launch quickly.
Take payments and monetize your live streams.
Build an evergreen content catalog. (More on that next!)
Grow and connect with your community.
Access a complete suite of marketing tools.
Better still, you'll be using a platform that has helped hundreds of fitness businesses build successful streaming platforms.
You can learn more about NulledMedia and what we do in the video below:
3. Customize Your Site 
The next step is to customize your new video website. You need to give it a look and feel that reflects your style of training and becomes a place your customers want to train.
NulledMedia makes customization easy.
We have an intuitive plug-and-play web builder that lets you design your website, your way. You can start with one of our many templates, or build using our landing page builder.
These provide the building blocks for your video membership site, allowing you to easily
customize and apply your own…
branding 
logo
color schemes
header images
copywriting
video thumbnails
buttons
…to build your site, your way.
Need some inspiration? We've seen our clients creatively use our design options to build stunning sites in a number of ways. Check out these successful examples of fitness streaming platforms that went online in 2020!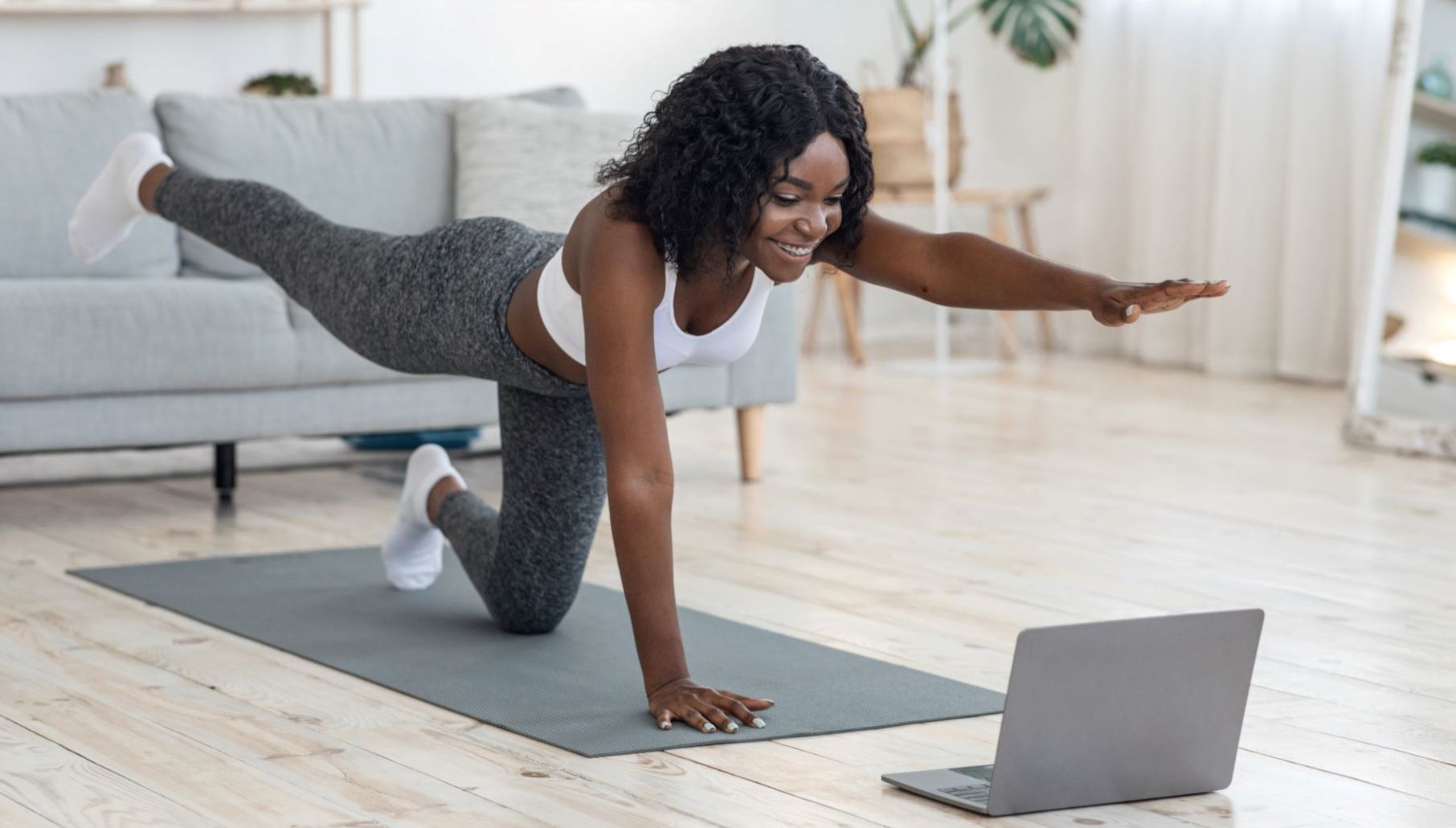 Top 7 On-Demand Fitness Streaming Services that Launched in 2020
4. Pick A Business Model
In this step, you're going to select a business model that you will use to monetize your live videos.
There are 2 types of business models to think about:
Pay-Per-Class: where people pay a flat-fee to attend individual sessions.
Membership: where people pay a monthly fee to access all of your sessions.
These options reflect how your customers pay for their brick-and-mortar gyms. Some may pay to attend a one-off class, others will get all classes as part of their membership package.
We've seen the best results from online fitness businesses that use the membership business model. Let me explain why…
Memberships create a reliable monthly income. A recurring income from a growing audience gives you stability and allows you to focus on delivering a great service.
Your income is driven by the size of your overall audience, and not how many people attend an individual live-streamed workout.
Also:
NulledMedia allows you to record and save all of your live-streamed fitness classes. They're automatically saved into what's called a content library.
This has 2 benefits:
Your live stream can be used more than once.
Your customers can use your platform when you're offline.
When you've created and saved enough live streams, you'll have an entire database of on-demand videos your customers can access anywhere, at any time, from any device.
This means your paying monthly subscribers can access a growing database of new classes, which you can use to create goal-orientated playlists and categories!
5.  Optimize Your Live Streaming Setup

The next step is to get your live streaming equipment ready.
The good news is that the core equipment you'll need is similar for all types of live-streamed fitness classes. What works for kickboxing can also work for a dance-cardio class!
The quality of your live stream (and the future recording) will be based on:
The clarity of your video: how good the live stream looks on their device.
The quality of your audio: how well they can hear your instruction.
Let's break them both down separately.
The Clarity Of Your Live Stream

The clarity of your stream refers to how well your customers can see your stream on their chosen device. Is it a blurry mess, or can they vividly see what you're doing?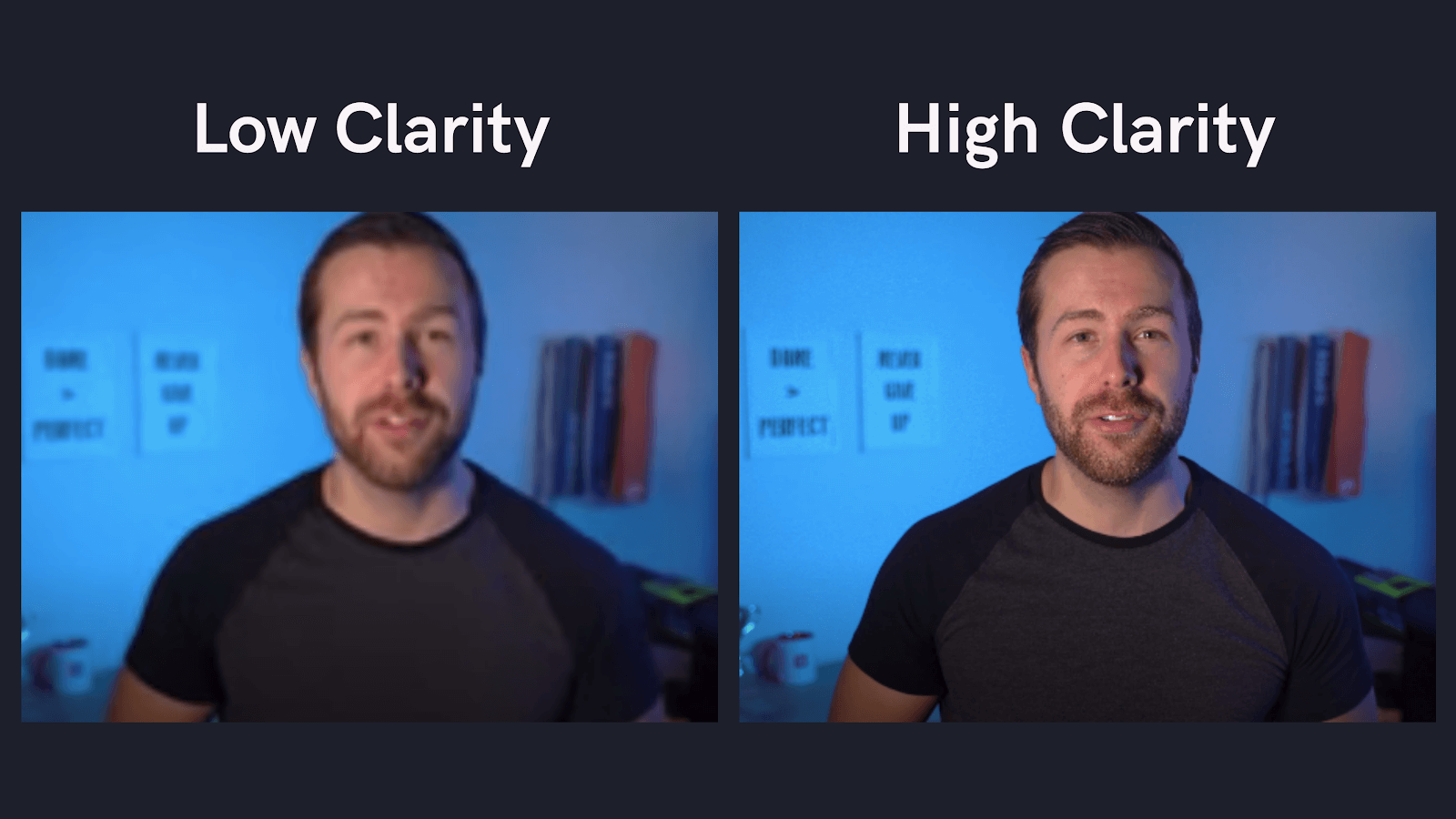 It's important that your stream has the highest possible quality and loads quickly and easily. Live streams with poor clarity have been shown to lose up to 25% of their revenue! 
You can ensure the best quality for your live stream by having:
Good internet in your studio: your internet should have upload speeds capable of broadcasting high-quality video 
Good internet in your clients' homes: the FCC recommends a download speed of at least 25mbps 
A decent camera: this can be a high-end smartphone camera or comparable
Broadcast software: you'll need access to a tool like OBS Broadcast, which will allow you to stream through NulledMedia
You can find more in-depth recommendations for each of these by checking out our guide on How To Live Stream For Beginners.
The Quality Of Your Audio
Video clarity is important, but your audio quality is more important. In fact, research shows that bad audio quality can ruin the entire perception of your video content.
To ensure good quality audio you'll need good:
Internet in your studio: your internet should have upload speeds capable of broadcasting high-quality video 
Microphone: we recommend a good quality headset microphone that you can wear while instructing 
Speakers: to broadcast your music (more on music in a second!)
You can get a more in-depth look at how to ensure high-quality audio for your fitness live stream in our video below:
6. (If Applicable) Protect Yourself With A Music License
Music is probably at the core of your in-person fitness classes. But, taking that music and experience online can be tricky. 
There are a number of legal differences between online video and in-studio audio. It's easy for even the most well-meaning instructor to (accidentally) land in some legal hot water! 
Music licensing rights are a little beyond the scope of this article, but you can refer to our guide on How To Navigate Music Licensing In Fitness Videos for more information.
7. Schedule And Promote Your Live Stream

Okay, now we're getting to the really fun stuff! In this step, you're going to schedule and promote your first live-streamed fitness class. 
You should schedule your first live stream at a time that's reasonable for a good number of your subscribers to attend. It should be accessible, and easy to fit into their schedule! 
Here are 3 tips to maximize the number of people
Be Clear About the What, When, and How: make sure all of the information is correct, so people can turn up on time, with the right equipment.
Create a Virtual Countdown: you can enable pre-registration on NulledMedia which will display a countdown to your live stream.
Build Anticipation with Sneak Peeks and Trailers More: create short snippets or behind-the-scenes clips you can post on your marketing channels.
You can even use a tool like Canva to create custom graphics that clearly display the time, date, and type of class you're going to be live streaming.
You should then make a list of all the possible places you could post about or share your stream, like…
social media
email list
your website homepage
WhatsApp (text all your clients!)
…and promote it there! You can also check out the video below for more actionable strategies on how to promote your live stream:
8. Go Live!
Phew! 
If you've completed all of the previous steps, you're ready to go live! It's time to switch the cameras on and do what you do best: provide an excellent workout to your clients.
Head to the next step to find out what to do when your live stream is over.
9. Next Steps…
How are you feeling after your first live stream? I bet it got your heart rate up!
If you're anything like me, you're feeling a mixture of good and bad. Some things went well, but there are areas to improve. Welcome to the life of a fitness content creator. (Yay!)
But it's hard to know exactly what happened in real-time. So, in the hours after your live stream, I recommend you:
Respond to any unanswered comments or questions.
Look for useful feedback.
Post a summary of the stream and ask for feedback in a community space.
You should then save the video to your library and publish it on your website. This will make it available to any paying customers who couldn't attend the live event.
If you're NulledMedia, your video is automatically saved, and you can publish it to your content library in just one click! 
Also, if you want bonus points:
I recommend that you go back and watch the live stream for yourself with a notepad and pen. Takes notes on what you did well, and what could have been better. 
This is the number one way to get better at being on camera!
The Benefits Of Live Streaming Fitness Classes In 2021 (Why It's For More Than Just Peloton!)

We've entered a new era of fitness. 
The COVID-19 pandemic has transformed how you need to coach, engage, and interact with your clients. The landscape of running a fitness business has never looked this uncertain.
In fact, industry research shows that:
25% of Americans say they're never going back to the gym.
42% of Americans now prefer working out in their own home. 
Membership costs are going to rise because of new hygiene demands.
That's before you even consider lockdown and social distancing measures that can force brick-and-mortar locations to close whenever coronavirus cases rise.
Online fitness studios and fitness live streaming services are becoming the go-to way to build a predictable income in an unpredictable industry.
Having a live-streaming fitness platform will allow you to:
Futureproof your business: by having a reliable income stream you can use no matter what the future of the industry looks like
Profit from high-demand and low-supply: lots of people want online exercise classes, but the industry is far from saturated. You have the opportunity to become the new Peloton of your style of fitness! 
Grow your reach: live streaming lets you connect with people all around the world. You can grow your facility far beyond your local area! 
There is a lot of upside to going online and little, if any, downside. It's an affordable way to invest in the future of your business and continue to grow.
Let's take a look at a fitness business that has moved online and reaped the rewards.
Case Study: How Sona Fitness Built A Successful Live-Streaming Platform

Sona Fitness is a boutique gym based in Chicago that offers personal training and a variety of small group classes.
They needed a way to keep their members engaged and help them achieve results throughout the pandemic. Mostly, they wanted to recreate the experience of the gym in your living room! 
This led them to launch a fitness streaming platform around live stream classes:

They've created a comprehensive calendar of high-intensity streaming workouts using a wide variety of techniques and equipment, from dumbbells, bodyweight, and bootcamp-style training.
They share the timetable of upcoming classes on social media every week:
This has both helped them to engage their current members, but also attract new ones from outside of Chicago. Whether you're in New York, London, or Sydney, the Sona Fitness experience is now available from the comfort of your own home! 
How To Sell Fitness Programs Online
The Ultimate Guide
Wrapping This Up…
I hope by now you have a good idea of how to live stream your fitness classes, and why it's important for the future of your fitness business.
If you have any questions we'd love to hear from you! Share them with us over on Twitter or Instagram!