Paid content, free content, live content, silly content – you name it: COVID-19 has people streaming more video content than ever.
And for streaming platforms and video businesses alike, it's a great time to be in the biz!
Disney+, for example, recently reached 50 million subscribers after only 5 months! That's pretty close to their goal to reach 60 million by 2024.
And Netflix and YouTube have been getting so much traffic, they've actually had to lower their streaming quality in some parts of the world!
Yet, despite the numbers showing YouTube is thriving as a platform – its creators are seeing huge drops in their income.
So, why is this happening? And what can YouTube creators do to actually profit from this current content boom?
Read on to find out!
Ad-Powered Madness
Almost all YouTube channels make money through ads that are played before, during, and after their videos. You know, those pesky ones you always wanna skip:
This is known as ad-based video on demand (or AVOD). AVOD's philosophy is simple: free content for the masses, powered by advertising.
This model is great for creators looking to get started, as it keeps their start-up costs low. However, once you develop a real audience, it's incredibly unfair to creators.
In fact:
Compared to other video monetization models, it generates the lowest rates of revenue for creators.
Why? 
Because nearly half of your ad revenue ends up back in YouTube's pockets!
That's right. They keep 45% of your money, leaving you with a modest 55%. ?
And now things have gotten even worse for YouTubers.
Because the system that pays their bills is crumbling right now due to the coronavirus.
The Dark Side of AVOD
Right now we are witnessing the dark side of AVOD.
YouTubers are working harder than ever…
…but they're making less money.
Many creators are seeing their income drop despite their number of viewers going up. Why?
Because advertising rates have dropped by nearly 50% since the start of the pandemic.
COVID-19 has forced many businesses to halt their ad campaigns, which is now directly hurting creators across the board.
Take siblings Hank and John Green, the brains behind some of YouTube's top educational channels, like SciShow and CrashCourse.
Their channels have a total of 18 million subscribers and are viewed over 60 million times per month. They're pretty much YouTube royalty. ?
So you'd think of all people, Hank and John would be safe from the pandemic's effects. After all, they make studio-quality content that reels in thousands of views in a matter of minutes.
But that's not the reality of YouTube's current monetization system.
Hank recently shared that their channel's CPMs (earnings per 1,000 views) have dramatically dropped by 30%. 
That's coming from one of the most successful channels on the platform. Imagine what it's like when you get further down the YouTube food chain.
YouTube gamer Bodil40, for example, recently expressed his concern over his channel's drop in ad revenue on Twitter, too:
And the replies confirmed every YouTuber's worst fears:
There's no way around it: YouTubers are putting in the extra hours and earning less.
And, sadly, this seems to be a common theme for anyone making money on the platform. From The Adpocalypse through to new COPPA regulations, creators live in constant fear of losing their income.
This is a big reason why the majority of YouTube creators will never break the US poverty line.
So what can YouTube channels do to actually see the fruits of their labor?
YouTube Success Means a Living
Below the US Poverty Line
Braving the Storm
YouTubers are in a unique situation.
They are among the few people in the digital age who are making less money for more work. Even when that work powers one of the world's largest and most profitable websites.
It shows that there is a fast-expiring shelf life on the AVOD business model.
But there is some good news…
There are many ways to continue creating awesome content that will help you pay your bills. 
One of the most successful routes is by thinking beyond YouTube. This means not relying on YouTube ad revenue as your main source of income. Why?
Because every video entrepreneur eventually learns on their journey that AVOD, while useful, is deeply flawed.
Switching your focus toward a subscription-based monetization model for your content is one of the best ways to keep making the content you love while keeping all of the profit.
And your viewers end up winning as well, paying recurring monthly or annual fees for the ultimate payoff of exclusive access to your one-of-a-kind content.
Take, for example, SarahBethYoga. This yoga YouTuber launched her channel back in 2010 and steadily grew a loyal viewer base with her approachable spin on yoga.
Despite finding success on the platform, she quickly realized there was a big problem with her earnings: they weren't reflecting the time and energy she put into her work.
Sarah Beth then took a giant leap. She decided to launch her own membership site after hearing of fellow creators who were now making six figures with their SVOD platforms.
And it completely 10xd her business. Here she is to tell you more about her journey:
Sarah Beth is one of many successful SVOD services whose story started on YouTube. And, yours can be one too.
If you're interested in launching your own subscription site, we know it can be scary. After all, finding your niche and resonating with viewers is no easy feat. 
But with an SVOD service, there's no need for you to sacrifice your YouTube channel. 
In fact, it can actually be repurposed as a gateway to turn your viewers into paid subscribers.
The image of the starving artist is but a stereotype to the thousands of thriving SVOD-driven video businesses we work with every day.
Video Monetization: How To
Make Money Without YouTube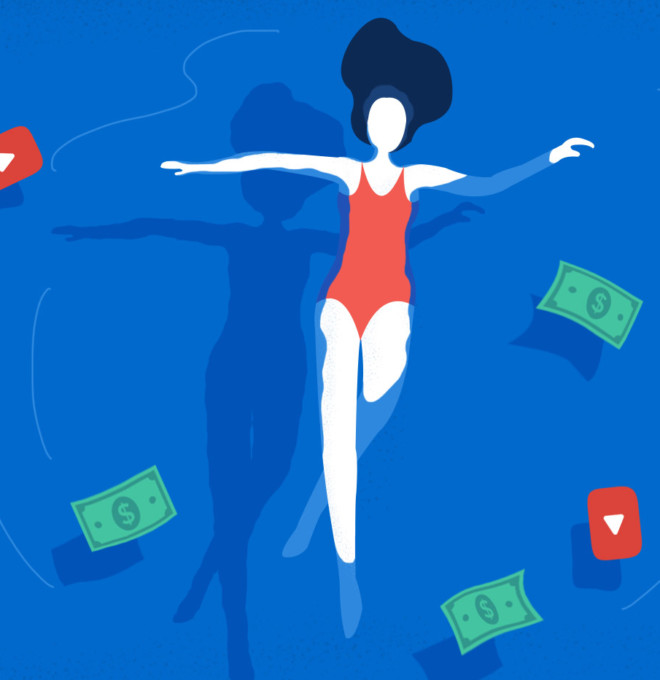 Conclusion
We love that in the face of all that's happening, people are cozying up to video to stay entertained and, let's be honest – distracted.
It's the one thing that's keeping many of us sane.
And while this is great, we believe creators should be fairly compensated for their work and their extra views. 
More money for more views. It's not rocket science.
And while it's totally normal to freak out at times like these, there are ways to make it out alive of this demonetization disaster.
Plenty of YouTubers have made the switch from AVOD to SVOD – using their established audience to launch a service with hundreds ready to tune in. 
We hope this will inspire you and any other YouTubers out there whose earnings have been affected by the current pandemic.
And if you need any help along the way, we're always here for you!
How to Sell Videos Online and Make Over $5k a Month For Real)