Are you considering using YouTube Channel Memberships to monetize your video content?
Then you've come to the right place.
We know YouTube Advertising revenue is down, and there's always that underlying fear that your channel is going to get demonetized. 
So, it makes sense that you're looking for new ways to boost your income and support your video content!
In this article, we're going to look at:
What YouTube Channel Memberships are
How YouTube Channel Memberships work (for you and your audience!)
Whether YouTube Channel Memberships are the right choice for your business
Let's go…
No time to read this article now?
Download a free PDF version of this blog post (all tips and links included).
What are Youtube Channel Memberships?
YouTube Channel Memberships are paid subscriptions to your channel. They allow your most die-hard subscribers to pay a monthly fee to access extra benefits, exclusive content, and support you as a creator. 
For example:
By clicking on the "Join Button", fans of the rock-folk music band, The Longest Johns, can pay between $5 and $20 to access a wide range of extra perks: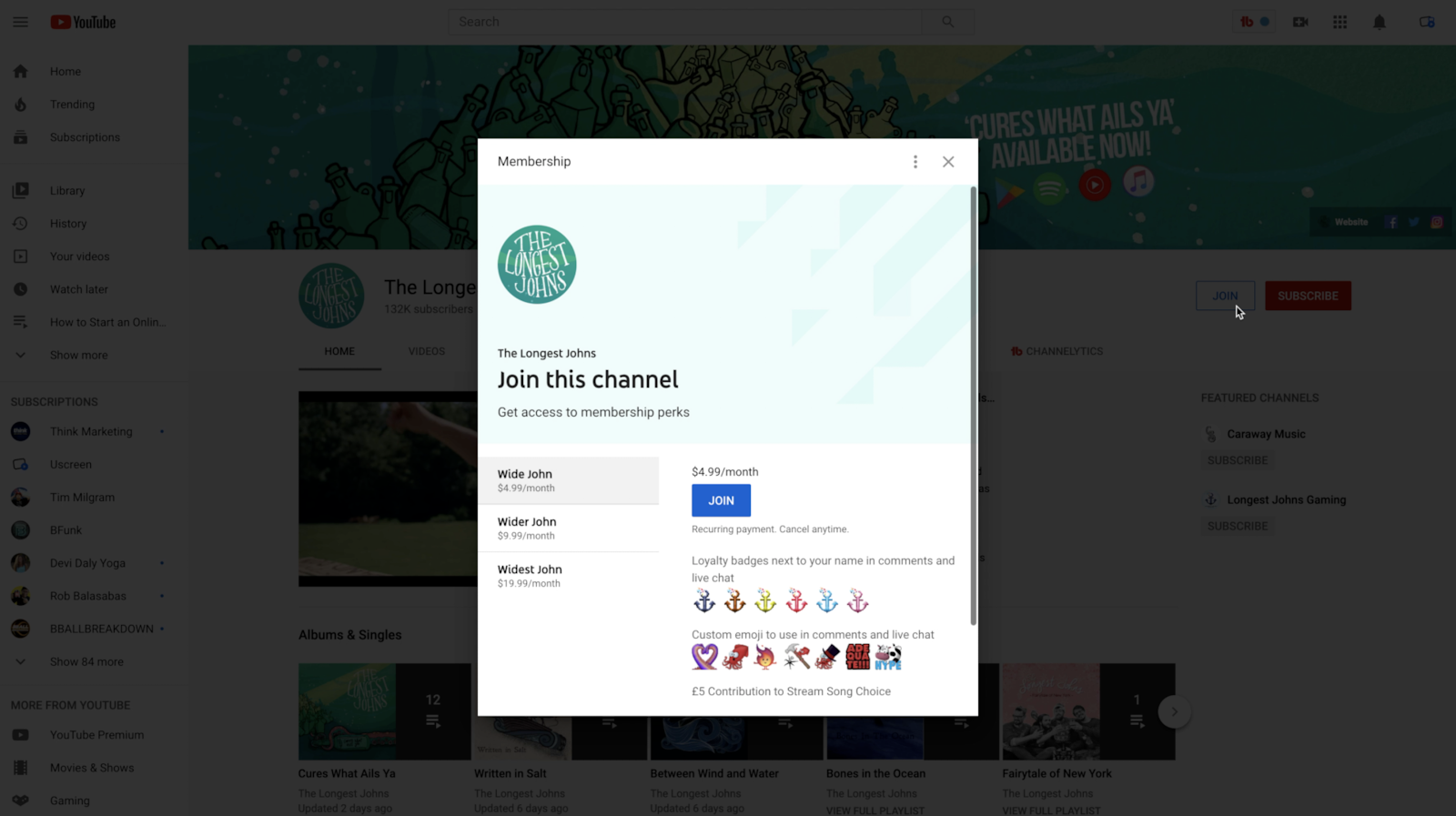 Channel Membership Perks You Can Offer
When you turn on Channel Memberships, you can offer exclusive members-only perks to your subscribers.
These membership offerings can include:
Custom emojis.
Badges.
Members-only community posts.
Exclusive live streams.
Live chat access, which is perfect for community building.
Bonus content, where the feel of exclusivity really kicks in.
How to Qualify for YouTube Channel Memberships
YouTube Channel Memberships are open to creators who fit the following requirements: 
Be a part of the YouTube Partner Program.
Have at least 1,000 subscribers.
Operate in one of YouTube's approved territories.
Create content that is NOT set as "made for kids."
Your channel must have few ineligible or recently demonetized YouTube videos.
Agree to all of YouTube's terms and conditions.
If you don't fit that criteria, I recommend you jump to the final section of this article, where we'll show you how you can make money from your video content much sooner!
How do Youtube Channel Memberships work? 
Youtube Channel Memberships work by giving subscribers a choice of "tiers" they can join. The higher the tier, the more they pay and the better perks they receive.
The prices you can set for tiers are pre-determined by YouTube and must be between $1 and $49.99. There should also be a clear difference between what you offer for $1 and $40!
While memberships are free to use, there is a cost: YouTube will take a 30% share of your profits. 
Let's say one of your membership tiers costs $4.99. When you reach 100 members that will be around $500 in revenue. From that revenue:
You get $350.
YouTube gets $150.
That's a BIG chunk of money. And, it only goes up the more you earn. Once you hit the 1000 subscribers mark, you'll be sending Youtube $1500 a month. 
That extra income could be better spent reinvesting in your business or treating yourself for all your hard work.
That's why here at NulledMedia, we recommend looking at alternative video on-demand platforms to YouTube Channel Memberships that allow you to keep more of what you earn.
Not to mention, you can use these alternatives without the hefty list of conditions that YouTube requires (*cough*….30,000 subscribers!)
Now that we've looked at the what and the how of YouTube Channel Memberships, let's take a look at who should be using memberships to grow their business and what other options may be available…
Which Creators Should Use Youtube Channel Memberships?
To understand if YouTube Channel Memberships are the right choice for you, we need to look at how you want to run your video business.
It can be helpful to think of video monetization options as a spectrum. Each platform on the spectrum has a specific goal:
YouTube Channel Memberships: to monetize content you've created without having to run a full-fledged business.
Patreon: to build an online community of paying fans.
Video on demand: to build an online business.
Here's how that looks for the visual learners: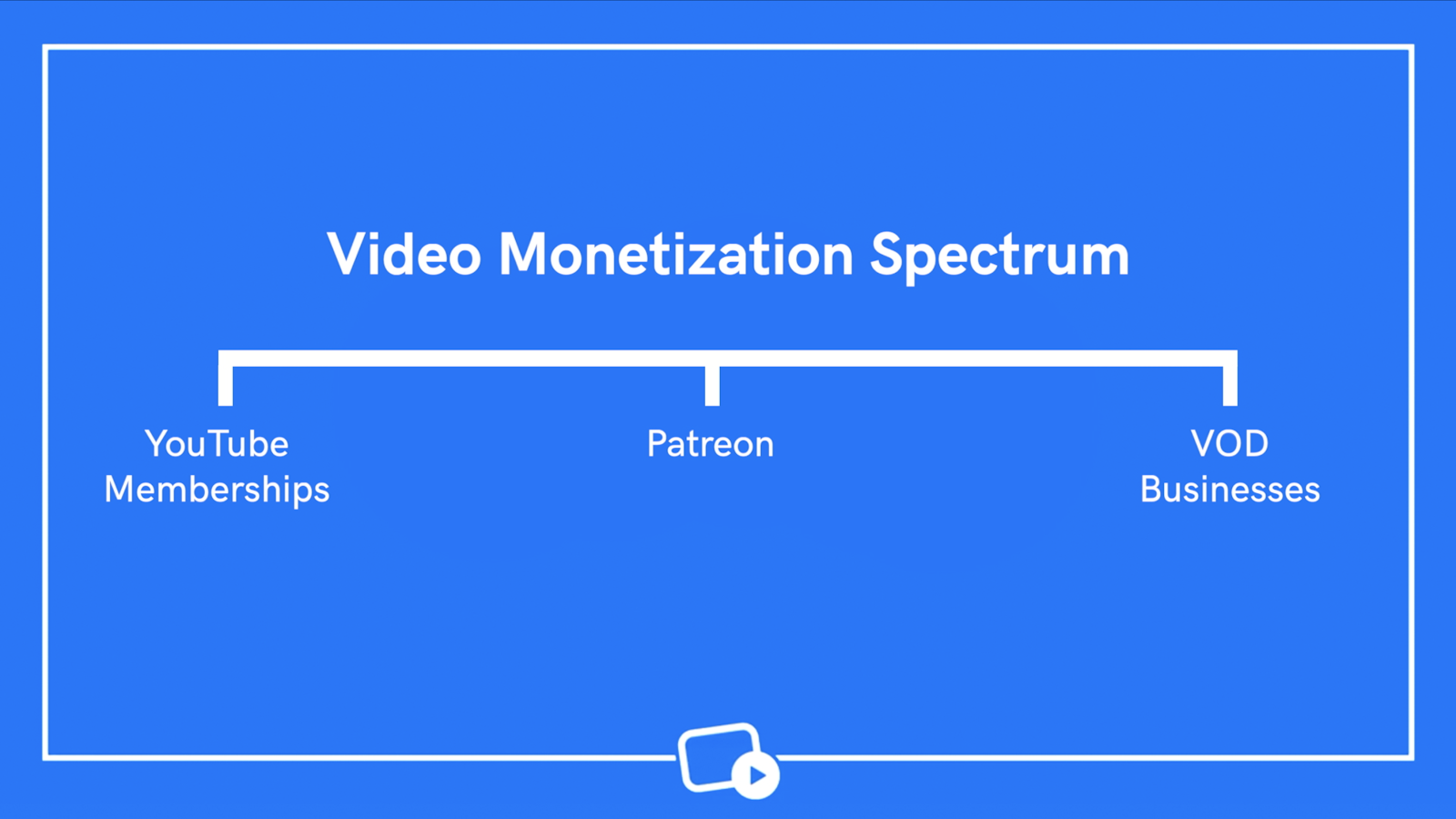 Choosing between these 3 options will depend on your goal and the audience you want to monetize.
Let's take a closer look at which one is right for you…
YouTube Channel Memberships
YouTube Channel Memberships are for creators who want to focus on creating content and earning money, without worrying about running a business. 
You can use YouTube Channel Memberships alongside your existing sponsored content and advertising revenues without dramatically adding to your workload. All you have to create are some custom emojis and upload occasional bonus content!
This works because your customer's mindset is support oriented, meaning:
They like you as a creator.
They want to support your work.
They see their monthly payment as a sort of donation to you. 
As with most things, there are drawbacks to using YouTube Channel Memberships:
You'll need to surrender a big part of your income – namely 30%!
YouTube has a habit of changing pricing structures whenever they feel like it. Demonetization is a real threat and YouTube Channel Memberships are not immune to that.
Competition for subscribers will be high and you'll have to rely on the YouTube algorithm to attract new members. This can put you in a position where you don't control the growth of your income. 
Patreon
If your goal is to grow a community beyond your YouTube channel as well as have more control over your income, then Patreon might be a solid alternative. 
While you would need to create more bonus content, you may have more flexibility in terms of setting prices and you will be able to keep a larger portion of your income!
You can find out more about Patreon by reading our article that explores the platform a little more in depth. 
Video On Demand 
Finally, we have our personal favorite option: video on demand (VOD) businesses. 
These are for creative entrepreneurs who want to build a fully-fledged profitable, scalable business around their videos. With a VOD  business, you will be able to:
Have your own website.
Build a content library.
Create varied premium content.
VOD is the most profitable option but it also requires the most work. You're going to be building a business not just creating content. 
In addition to building an entire catalog of content, you'll also need to handle (or hire someone to help with) your business's marketing, sales, and community management.
That can sound like a lot, but let me tell you, the payoff is worth it! Why? 
Because you'll:
Earn more money.
Keep more of the profits.
Have a business you own away from algorithms and advertisers. 
Take the YouTube channel Your Book of Memories, for example, where Frances Long teaches people how to make their own beautiful scrapbooks from scratch. 
As a YouTuber, her revenue stalled at around $380 a month despite having thousands of subscribers. So, to grow her income, Frances started a premium video on demand website where she sells access to her tutorials: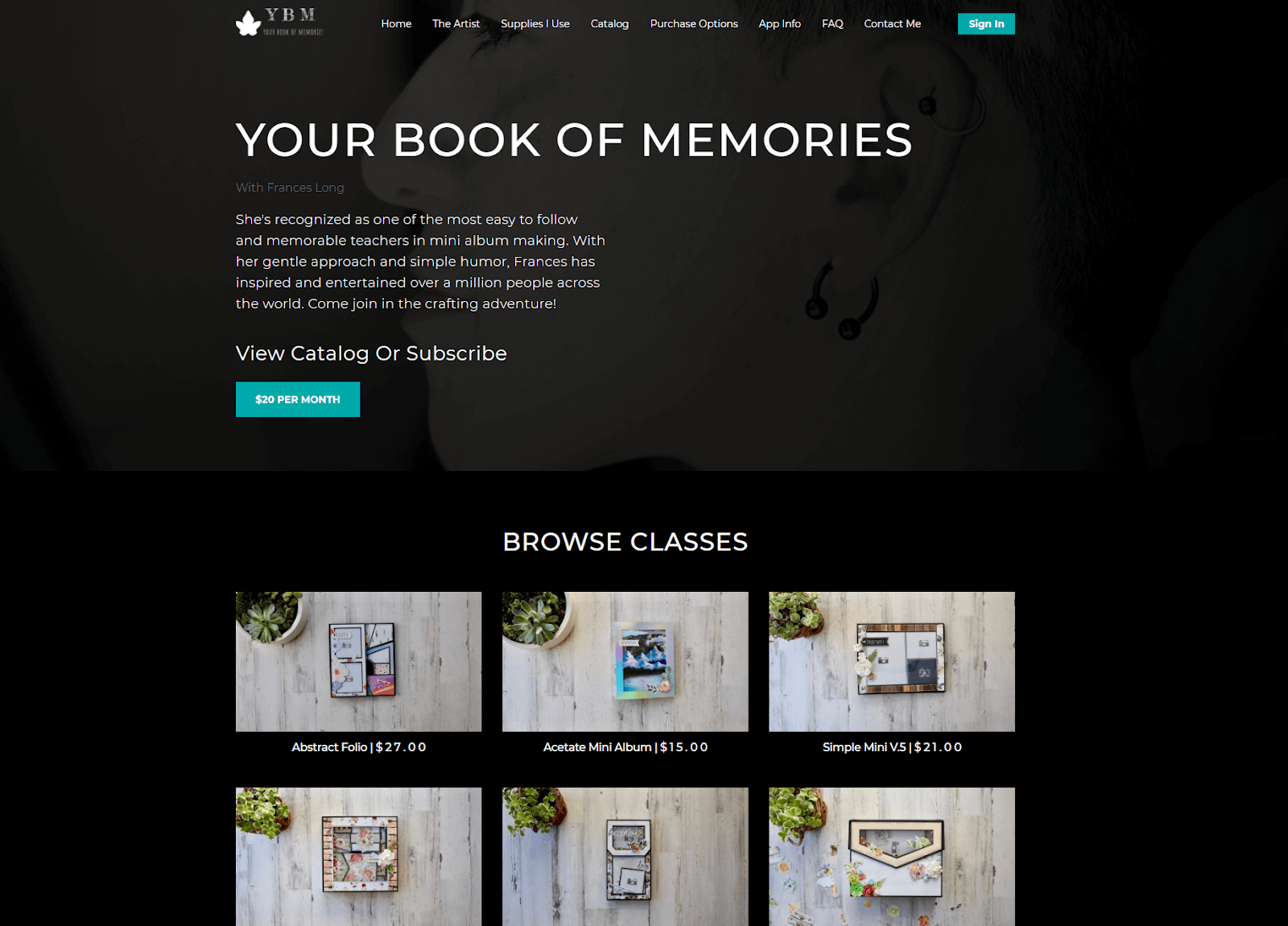 The result? 
She went from earning $380 to $4000 a month in just 4 short months!
And that's just one example of a YouTuber who has pivoted to a video on demand business and dramatically increased their income. 
If you'd like to learn more about video on demand, and whether it's the right option for you, you can watch this video on how to make money without YouTube:
Wrapping This Up…
If you want to earn more money from your YouTube channel, it makes sense that you'd want to explore YouTube Channel Memberships as an option.
If you want to build a business on YouTube and stick to making money from what you upload there, they can be a simple and practical way to expand what you offer.
But…
If you want to earn more money and build a long-lasting video business, free from algorithms and advertisers, then we highly recommend you explore launching your own VOD platform.
Take a look at the article below to learn more: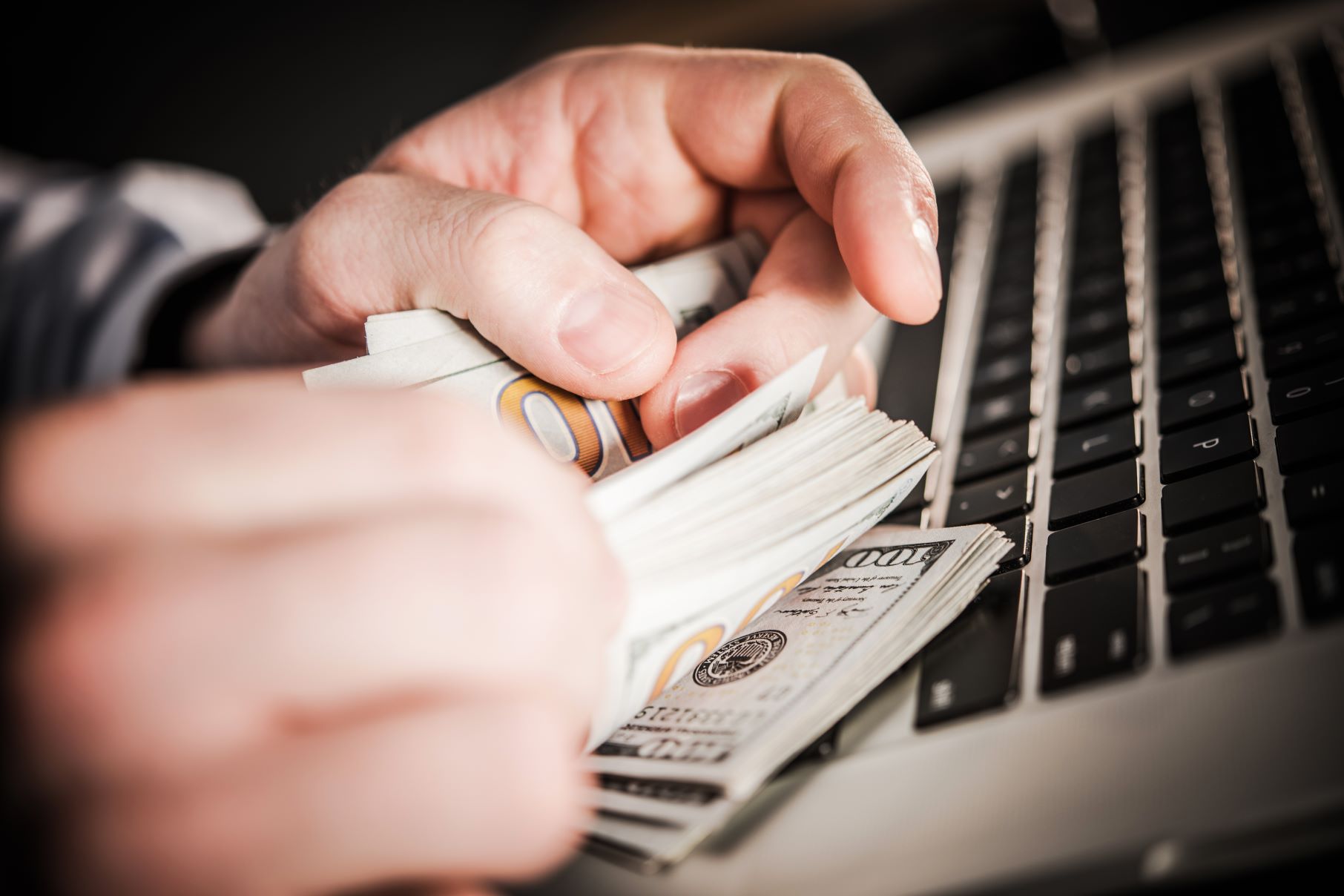 Video Monetization:
How To Make Money Without YouTube